There are many facilities around MediaCityUK to support cyclists.
A Cycle Hub is a safe and secure place to lock your bike under cover and away from potential thieves. They are protected by CCTV and access is limited by a swipe-card entry system.
There are cycle hubs located at public transport links and other convenient places across Greater Manchester. The hub at MediaCityUK has lockers and showers to make cycling to work an even more attractive option.
The cycle hoops around MediaCityUK can accommodate almost 300 bikes
For more information on where these hoops are located, please see the map using the link below.
– On-site mechanic –

Every Tuesday – revolveMCR
If your bike is in need of some TLC then revolveMCR are on hand to take care of all your mechanical needs from puncture repairs to major maintenance and servicing.
Based next to the Cycle Hub every Tuesday, their Cytech qualified mechanics operate a pop-up workshop on site and offer a basic service for £39. Booking in advance is strongly recommended – call 07939 062 600 or email hello@revolvemcr.com.
See their website www.revolvemcr.com for more details.
Did you know?
Transport for Greater Manchester holds bike maintenance sessions in a number of places across GM, in case you wanted to try and master the art of fixing a puncture!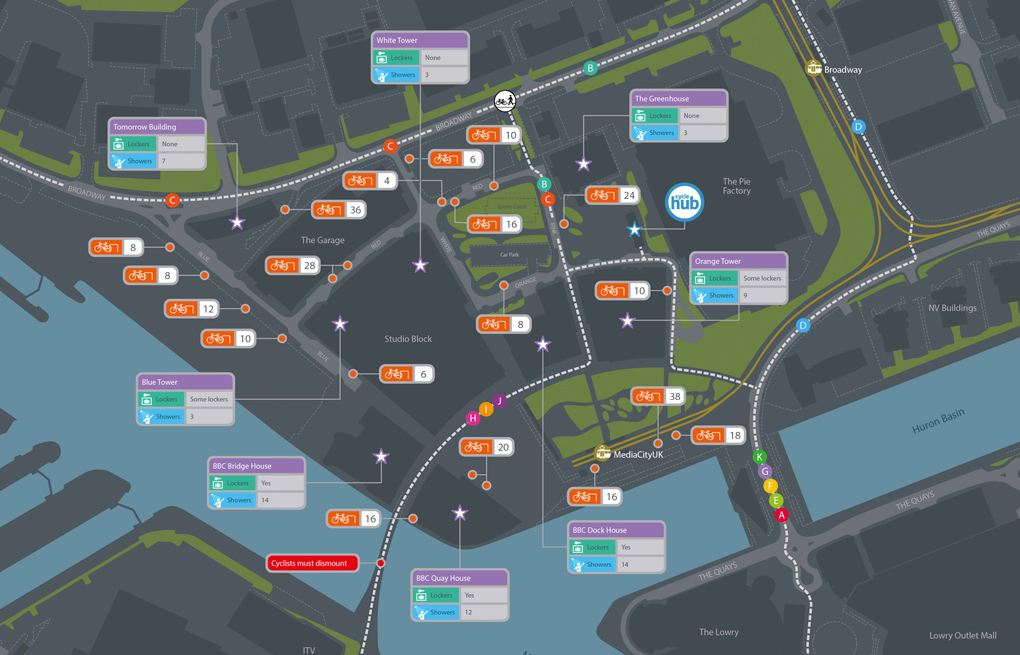 Everything you need around MediaCityUK.
Each business on site has their own showers which employees are able to use.
To see where these showers are located within your place of work, please refer to the cycle map on the left for more details.